上海新维科技创业有限公司成立于1999年,是一家经国家认监委备案,主要从事各类体系认证咨询及相关培训的专业机构,公司拥有一批具有现代管理知识和不同专业背景的资深国家注册咨询师,致力于国际标准、管理咨询、投资咨询的研究和应用,累计客户已超过千家,为制造业、房地产业、汽车行业、建筑行业、服务行业、食品行业、药品行业、医院、学校、科研单位、设计单位以及IT行业等知名企业提供过咨询服务,赢得了广大客户的信赖,能辅导协助企业顺利通过国际/国内著名权威认证机构的认证证书。公司每月开设内审员、六西格玛管理、精益生产管理、绩效管理等专业培训课。
Shanghai Xin Wei Technology Development Co., Ltd was established in 1999 and kept on record of CNCA to do the authentication consultant and training of some relevant systems. There has a group of domestic certificated consultants with professional management knowledge and different major background. They are taking the working in researching and using of inter domestic standard, management consultant and investment consultant. The customers are accumulated over thousand units. The company provides consultant services for some famous companies including Manufacturing industry, the real estate industry, automobile industry, construction industry, service industry, food industry, pharmaceutical industry, hospital, school, scientific research units, design units and IT industry. It wins the reputation from customers that can assist enterprises in receiving the domestic/ international well-known certificated of the certification authority certificated. The company monthly opens internal auditor, six sigma, lean production management, performance management and other professional training courses.
The certificated qualifications the company got are quality management system authentication and environment management system authentication issued by CNCA. With holding these qualifications, the company can engage in system certification consulting, product certification consulting, manage consulting, training and project consultation services.
Xin Wei company created the "Xin Wei" brand with adhering to the principle of "High quality and High efficiency". It provided the special and professional service for Jiangsu Electric Power Bureau Su source information company limited, Shenzhou digital company limited Xi'an R & D center, Shanghai Zhongruan Shareholders company limited, Chinese Academy of Sciences nuclear test plant, Chinese Academy of Sciences Shanghai Institute of organic chemistry, Shanghai Daikin air-conditioning commercial air-conditioning company limited, Shanghai Delphi Automotive Aerospace Systems Company limited, Shanghai General Fuji cold machine company limited, Siemens ( Wuxi) company limited, GE Electric (China) Company Limited., Bayer (China) Company limited of Shanghai polymer research and development center, Shanghai petrochemical, Shanghai radio and Television Corporation company limited, the Eastern Airline food company limited and etc.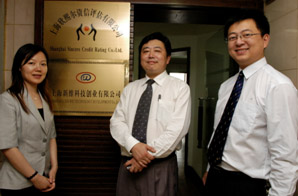 (中文版介绍完)
(Please click next page or page 2 for English version.)